2020-2021 Season Update and Important Information
---
---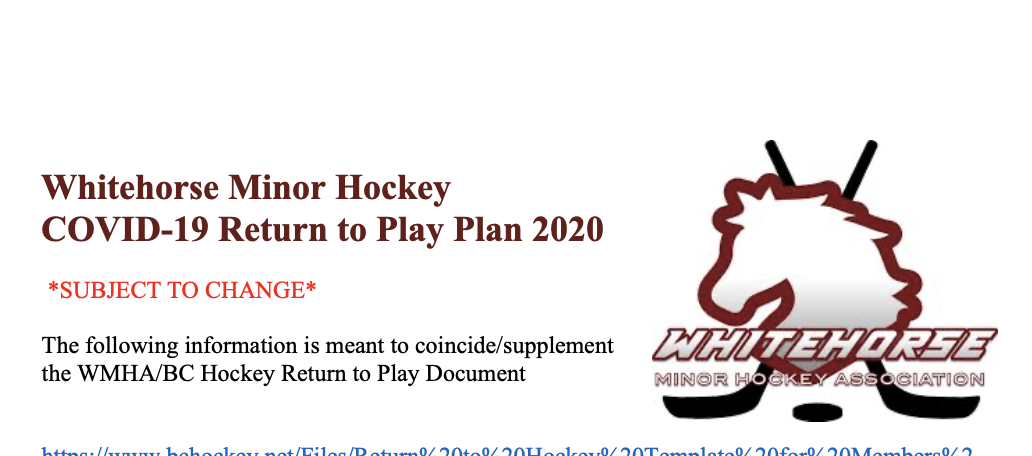 ---
Hello Hockey Fans
Please see below for some important information with regard to the 2020-2021 Season.
WMHA has created a return to play document and it is essential for all parents and guardians to review it.
CLICK HERE TO REVIEW THE WMHA RETURN TO PLAY DOCUMENT
WMHA has extended the registration deadline new deadline TBD
Our season is scheduled to begin after the Labour Day Long Weekend with modifications as required by Hockey Canada/BC Hockey and the local health authorities.
We are working daily to keep up with the evolving restrictions and protocols and adjusting to the latest phases of both BC Hockey and Yukon Health.
We were all so happy to hear Dr. Hanley say yesturday, "Hockey will happen this winter…" and we ask for your patience and understanding as the WMHA Board and Executive iron out the details!
**
WMHA understands that this could seem like a confusing start to our season compared to other years, in order to avoid as much confusion as possible we have endeavoured to inform our members when new developments have taken place-when we know more, you know more. It is very important that we all understand the landscape we are current operating in for the 2020-21 season. We are in very unprecedented times and unfortunately that makes predicting the future incredibly challenging.
In saying this, we have had a conversation with representatives from Yukon Health which has been both enlightening and promising. While we are cautiously optimistic, we have taken the following steps to allow you to make the most informed decisions.
August 17th registration deadline extended-new deadline TBD based on new guidelines coming out from the CMOH expected next week. Season start still set for September 8th.
Anyone wanting a FULL refund will be granted a refund including NO administration fees until a refund deadline is established.
Once we present the proposed season plan, a new registration deadline will be set, and a cancelation deadline will also be set. Registration cancellations AFTER the deadline will be subject to our current refund policy.
These deadlines are necessary to establish groupings as required by the CMOH
News about season structure is being updated almost daily from Yukon and from BC Hockey/Hockey Canada. This is what we believe to be true today….
We will start the season with skills-based sessions with a set max number of players on the ice per session. (conditioning/prep camp environment).
Skills sessions will transition into practice sessions
Game play will be allowed when groups (capped at a certain # of players (perhaps 50 or 60 ish) are formed. These groups will be formed by WMHA representatives and division convenors and will be based on age and skill level. As per direction from Yukon Health, gameplay will be restricted within these formed groups. Group members will be placed on teams and teams inside these groups will play against each other during game play.
Game play will be close to conventional games, could include 3 on 3, 4 on 4 and 5 on 5.League play will be allowed and division programming could look very similar to "normal" seasons.
Social distancing and the safe six are paramount and expected during skills and practice sessions, game play does not always allow for safe six measures which is why the "groups" (cohorts) will be created.
What about Development/Mustangs teams?
After players have been on the ice with their divisional peers for skills, practices and modified game play at the onset of the season, we will work towards development tryouts to identify those players seeking additional development opportunities. While there will not likely be travel out of the Territory prior to January or beyond - there will be ways to enhance player's on ice experience including guest coaches, specialized skills sessions (ie) shooting clinics, video review sessions, edge work sessions etc.
Thank you for your patience as we work together to keep our athletes safe and provide them with access to our favourite pastime.
Please email your questions or concerns to office@whitehorseminorhockey.ca
**