WMHA is unable to provide Yukon Hockey Academy Camp Programming
---
---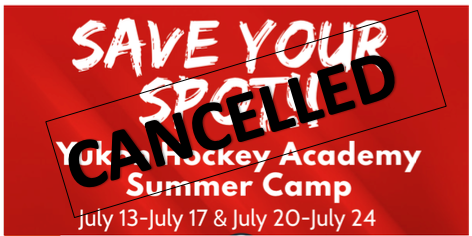 ---
Hello Hockey Families,


WMHA is unable to provide Yukon Hockey Academy Camp programming as scheduled as we await the installation of ice at the CGC and the creation of local COVID-19 protocols surrounding return to play etc. WMHA hopes to program pre-season prep skates/conditioning skates for our athletes in every division- details will be available when registration opens.
The City of Whitehorse is working hard to ensure we have ice in place as soon as possible and are targeting the beginning of August.
WMHA members who have placed a deposit on camp will have those funds placed towards the upcoming season, out of town camp participants will be refunded.
We ask you all to review the COVID-19 links on our website for updated information from Hockey Canada CLICK HERE and BC Hockey CLICK HERE
**IT IS VERY IMPORTANT THAT ALL FAMILIES READ AND REVIEW THE INFORMATION PROVIDED IN THE LINKS ABOVE**
Thank you for your patience as we navigate a return to play strategy, we would also like to thank the City of Whitehorse for working hard to get the rinks open so our athletes can return.
Please keep checking the WMHA website for updates and details regarding safe return to play measures and WMHA registration details.
Hope to see you all at the rink soon!